What is a Virtual Fridge?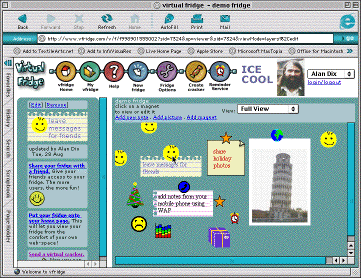 Virtual Fridge is a group environment where people can interact with each other. It can be a place for informal communication for families, friends, or clubs. vfridge is an Internet version of a fridge door- it is a place to put messages, share information, and discuss things. Members put messages onto the fridge, and these are instantly visible to all the rest of the group.
Whats so special about vfridge?
A Better Way of Communicationg
People are used to looking on notice boards for information. vfridge works the same way so it?s easy to pick up. A vfridge can be used for anything. Need to sell something? Or perhaps you?re looking for a flat-mate? vfridge gives Internet users a home without them having to own their own web-page.
Natural and Easy To Use
vfridge provides a natural view of the environment, making it easier to get to grips with. Whereas traditional computer-based notice-boards are functional, but they only appeal to technical people. The display is a two-dimensional surface letting users decide where they want their messages to be placed.
Easily accessible from anywhere.
vfridge runs on a web-page, but you don?t need the latest web-browser technology to use it. It works on the old stuff as well as supporting the latest features of the new breed. vfridge will even allow groups of friends to interact with the environment from single computer- a problem that most of the traditional systems can?t handle.
Informal or formal, your choice.
The appearance of vfridge is customisable. Examples include a bulletin-board interface, or a nostalgic sticker-board affair complete with action figures. Whether its fun, notices, or tailored to a subject, vfridge will look the part.
Extra goodies.
vfridge doesn?t just let you share messages; you can put all kinds of things into fridge decorations. These may include links to web-pages, downloadable music, electronic greeting-cards, photographs, and much more. You could even send party invitations or show maps of how to get to the venue.
vfridge administration is simple.
Creating and modifying a fridge is very easy to do. All fridge content can be analysed securely, giving administrators the ability to post relevant messages based around what the fridge has on it. The same system could be used to check that the fridge is not being used in an inappropriate manner.
an example
To find out more about vfridge and how it can help you, contact us at enquiries@vfridge.com.