Customising vfridge for your site
You can create a custom style for your virtual fridge so that it fits in with the rest of your web site. This includes customising the colour scheme, adding your own logo and page header. See the full list of free customisation options or see an example fridge customised for the hcibook.com web site.
You can just customise your own fridges, or allow visitors to your site to create their own fridges with your branding, thus promoting your site to their friends and making it more likely they will return.
You can choose a free customisation (includes our own adverts and e-shopping) or paid-for bespoke customisation or licensing (you have full control over content).
To create your own free custom style you need to be registered and logged in and then go to the customisation page
For bespoke service and licencing please contact commercial@vfridge.com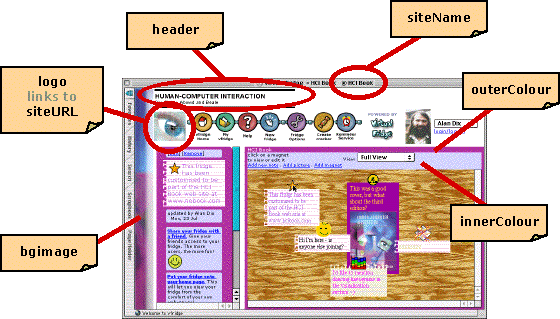 Parameters you can set to customise your fridge:
| | | |
| --- | --- | --- |
| siteName | - | a short name used in the page title |
| siteURL | - | a link back to your site |
| logo | - | a logo for your site to go in front of menu bar (max 100 pixels wide x 64 pixels high) |
| header | - | full width HTML header for the page - can contain navigation links to areas of your site (but not banner or text adverts, affiliate links etc.) |
| outerColour | - | medium dark colour used for borders of fridge boxes (see diagram). Both white and black text used against this colour. |
| innerColour | - | a light contrast colour for insides of boxes. Black text and links used against this colour. |
| bgimage | - | a background image for the page. The layout assumes that the majority of the page has a white background, so this image should give a left hand border no more than 48 pixels wide. |